Kim Ji Hyun to make a special appearance in "Hometown Cha-Cha-Cha"
Posted 2021/10/08 0
Actress Kim Ji Hyun will make a cameo in the hit tvN drama "Hometown Cha-Cha-Cha."
For the upcoming episode of the ongoing series "Hometown Cha-Cha-Cha," Kim Ji Hyun will make a special appearance and will be the person that is from Kim Seon Ho's character's past.
Kim Ji Hyun participated in the ongoing drama because of her relationship with director Yoo Je Won. They both worked together in the drama "The Smile Has Left Your Eyes."
"Hometown Cha-Cha-Cha" depicts the love story of a female dentist and an unemployed but jack of all trades male set in the seaside village of Gongjin. It is directed by Yoo Je Won and Shin Ha Eun.
The drama is led by Shin Min Ah, Kim Seon Ho, Lee Sang Yi, In Gyo Jin, Jo Han Chul, Lee Bong Ryun, and more.
In the drama, specifically in the 6th episode, a glimpse of Kim Ji Hyun's character was revealed. She was holding a child in the picture that Hong Doo Shik (Kim Seon Ho's character) kept. In the current preview for the next episode, Kim Ji Hyun will finally appear and will play the special role named Seon Ah. Many are already curious about the real relationship between Seon Ha and Doo Shik.
The drama just finished filming for the last episode this week. There are still remaining 4 episodes to air before its finale.
"Hometown Cha-Cha-Cha" airs every Saturday and Sunday at 9 PM KST. The drama is available on both tvN and Netflix.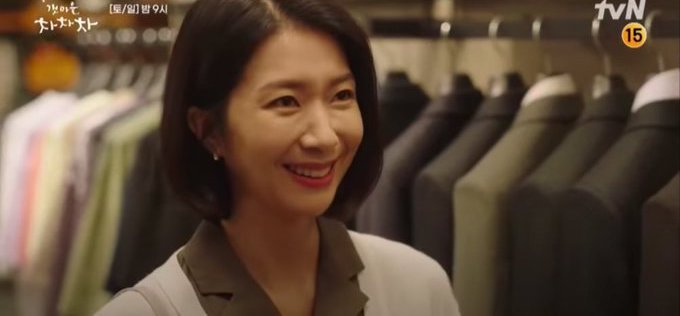 This drama will be Kim Ji Hyun's first appearance on the small screen this year. For next year, the actress will lead the upcoming drama "Thirty-Nine" with Son Ye Jin and Jeon Mi Do. The actress will also star in the upcoming series "Sabotage City" with Park Soo Ae, Kim Kang Woo, and Lee Hak Joo.
What are your guesses on the relationship of Kim Ji Hyun's character to Doo Shik?